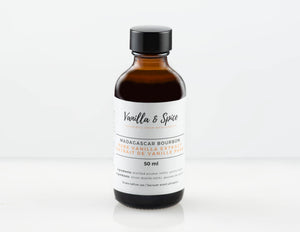 Holiday Gift Special: Buy 5 get 1 free!
Our vanilla extract is truly "pure" with only two ingredients. There are real vanilla beans in every bottle so with time the vanilla flavor will become even bolder and more enhanced. Check the label of your store-bought vanilla extract and if it contains more than two ingredients, it has probably been watered down and/or sugar-infused.
Once you start baking with our vanilla extract, you will not go back to the store-bought one.
Fantastic flavour!
I only buy this vanilla extract now. The flavor is incredible and I love that I am supporting a Canadian company.
High quality vanilla
The shipping is very quick and well pack. The aroma of this vanilla is excellent unlike the store bought vanilla. I will definitely order again.
Excellent!
This is a high quality vanilla extract with subtle and complex flavour, highly recommended.
Best Yet!!
I love vanilla and it is simply the best I've found so far!
Vanilla bean and extract
Awesome stuff and personally delivered