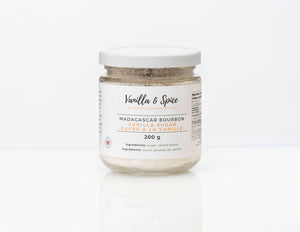 Our vanilla sugar is made by infusing granulated sugar with gourmet vanilla beans. Vanilla sugar is a great way to impart a subtle vanilla flavour into anything you are baking. You can sprinkle atop your baked goods like muffins and cookies and you can also add it to your coffee, tea or hot cocoa. With real vanilla beans inside the sugar, this is a great item to have in your pantry or give as a gift!
Size: 200g
Love!!!
The vanilla bean powder is amazing and I can never go back to store bought!
Vanilla sugar
A little sprinkle here and there- so good! Will definitely be buying more.
Great product in the kitchen & as a gift!
Pure Vanilla sugar is another great way to add vanilla to your everyday cooking and baking. Love all of the Vanilla & Spice products. Their products taste great and do not have all the 'additives' mostly found in other products. The packaging is nice as well so I am stocking up to give as Christmas gifts.
Parfumé et délicieux!
Excellent sucre vanillé où l'on sent vraiment la vanille! Je l'adore dans les yaourts nature et mes enfants aussi! Parfait pour cuisiner aussi. Service sympathique et impeccable!