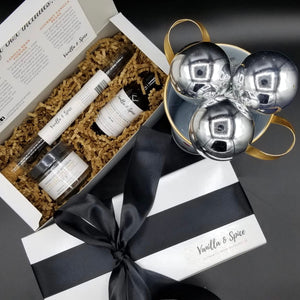 Exclusive Holiday Offer - Limited Availability
If you're looking for a gift for someone who loves to bake, look no further! This exclusive box is guaranteed to make a baking lover happy. The gift box includes:
- Pure Vanilla Extract (50 ml) - Our vanilla extract is truly "pure" with only two ingredients: gourmet vanilla beans and Canadian vodka. There are real vanilla beans in every bottle so with time the vanilla flavour will become even bolder and more enhanced.
- Vanilla Bean Powder (20 g) - Our vanilla powder is made of whole gourmet vanilla beans and ground to a fine powder. It is a great alcohol-free alternative to extract. It has a very concentrated flavour so you can half the amount of powder when substituting for extract.
- Gourmet Vanilla Beans (2 beans)  - Our gourmet vanilla beans are the highest quality you can find! Vanilla beans from Madagascar feature a rich and creamy flavour with a sweet and buttery aroma. They are perfect for baking or for making your own extract.
All items are packaged in a white gift box with a black ribbon and includes a description card.
*Not eligible for other Promotion
Great Gift
Bought as a gift. Received it in a very timely manner. Comes in a lovely wrapped package. Love the traceability of the product. Happy to support this local small business. Thank you so much!
Wow! Amazing gift box!
I bought this as a gift to my friend that loves baking and she LOVED it! Beautifully packaged, above excellent quality products and super amazing quick delivery. Thank you so much!
Great
The package of vanilla goodies arrived and are lovely - the perfect gift for my new daughter in law as she's a keen baker - thank you
Hi Shiela,
As mentioned to you by email today, the shipping delay is due to courier services being backed up because of the extreme flooding in BC. We shipped your package the day after we received your order but unfortunately shipping delays due to extreme weather conditions are beyond our control. As mentioned, UPS indicated that your package is waiting to be scheduled on a delivery truck so we hope you will receive it very soon.
Thank you!