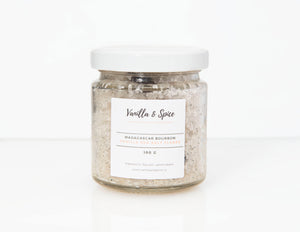 Vanilla salt is so very versatile, and the sweet/savory flavour profile is the perfect finishing touch to just about any dessert. Sprinkle on brownies, homemade caramels, popcorn or even in your favorite hot cocoa. Our Vanilla Salt is made by infusing Vancouver Island sea salt flakes with gourmet Madagascar vanilla beans. 
Size: 100 g
Love it
First time using the product and I love it!
Unique product!
I already used this sea salt in chocolate chip cookies. People cannot get enough of them! It's such good quality, smells amazing, and is quite unique.